The most engaged teachers of Marijampole Vocational School were awarded nominal scholarships established by CIE LT Forge
2023 10 08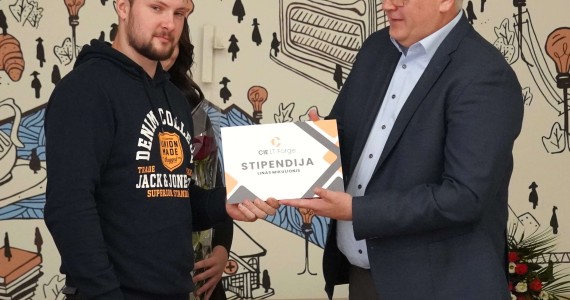 On October 5th, International Teacher's Day, Marijampole Vocational School held a celebration where the most participating teachers of the school received gratitude from CIE LT Forge and were awarded nominal scholarships by the company.
Scholarships were awarded to three teachers: Mindaugas Zdanevicius and Edvinas Cernauskas, teachers in the field of transport tool maintenance and repair, and Povilas Kairys, a teacher in the field of metalworking machine operation. These awards recognized their close cooperation with business companies, their efforts in motivating students to pursue careers in their chosen professions, and their commitment to continuous professional development.
Three students, Ausrine Vircinskaite, Linas Mikulionis, and Danyil Kazak, were also awarded scholarships in recognition of their outstanding academic performance, achievements in their chosen professions, and active involvement in school activities. A special committee organized by Marijampole Vocational School determined the recipients of these nominal scholarships.
"Although we signed the cooperation agreement with the Marijampole Vocational School relatively recently - in late spring, we are already reaping the benefits of this fruitful collaboration. Our company has already welcomed several groups of students from the school, and our employees continue to enhance their knowledge through this educational institution. Since this fall, more than ten employees are studying under the apprenticeship program. And today, it brings us great joy to congratulate the teachers of the institution and recognize their hard work and achievements with the nominal scholarships established by our company. We believe that this recognition will motivate and inspire not only the awarded teachers, but also other members of the community", – said Darius Masionis, CEO of CIE LT Forge, during the festive celebration.
"Alongside the entire community, we are delighted by this initiative and hold high hopes that it will evolve into a wonderful tradition, inspiring progress, and a shared pursuit of common goals," expressed Grazvydas Juodisius, the head of Marijampole Vocational School.
What inspires and motivates scholarship-winning teachers in their daily work? Mindaugas Zdanevicius, a highly esteemed teacher at the vocational school, shares his perspective: "I am driven by the opportunity to engage with the youth and witness their enthusiasm for technology and innovation. Drawing from my extensive production experience, I aim to impart practical knowledge to students, going beyond the scope of formal training programs". Mindaugas, who serves as both a teacher and engineer, has long-standing partnerships with businesses and actively collaborates with other educational institutions.
Another award-winning teacher, Povilas Kairys, expresses his passion for teaching, and emphasizes the opportunity it gives him to share his skills and expertise with his students. "It's great when students enter the job market equipped with the essential skills they need", he says happily. Mr. Kairys not only imparts knowledge to students, but also contributes to the improvement of learning environment - he is affectionately called the 'metal soul' due to his active involvement in establishing the school's metal workshops.
The teacher's scholarship was also awarded to Edvinas Cernauskas, who began his educational journey at Marijampole Vocational School, participated in the apprenticeship program, and ultimately became perhaps the youngest teacher in the institution. "In many cases, I am only a couple of years older than my students, so I easily find a common language with them. This makes it easier for students to acquire knowledge and skills. It is a very engaging and interesting job", says Edvinas Cernauskas, who also encourages other young people to take an interest in profession of a teacher.
On the occasion of Teacher's Day, the awarded teachers of Marijampole Vocational School wished all their colleagues success in their work, good health, patience, and encouraged them to constantly move forward, pursue innovations, and seek improvement.
CIE LT Forge, a leader in the production of automotive components in Lithuania, actively participates in various educational initiatives. The company collaborates closely not only with the Marijampole Vocational School, but also with the Marijampole College and other local educational institutions. CIE LT Forge opens its doors for student tours, supports students entrepreneurship promotion projects, compensates employees' children for robotics clubs, and thus fosters an interest in engineering sciences among children. Starting this fall, the Marijampole-based company has become the primary partner of Ziniu Radijas (News Radio) for the program "Ijunkim Sviesa" (Turn on the light), dedicated to sharing inspiring stories about Lithuanian education leaders.