2016 09 13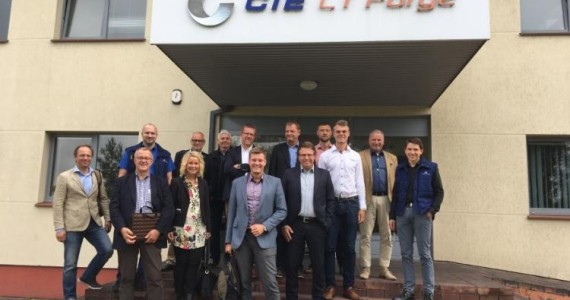 2016 September thirteenth (09.13) Swedish automotive industry representatives ,who contributes to the production of  such car as Volvo or Scania, visited "CIE LT Forge". The event was organized together with superimposed on the BACC members. Together with 15 other companies, we are also part of the BACC cluster.Guests heard Commerce manager Karolio Bardausko and Technical Director  Gintaras Savickas presentation about "CIE LT Forge", Gintaras and Karolis told Swedish representatives who we are, what products we produce, what countries we exporting  our parts. Company representatives together with Gintaras Savickas, Edas Pavelčikas (Operational manager) and Karolis Bardauskas visited production facilities and were pleasantly surprised by our factory capacity.
Swedish car and parts manufacturers thanked everyone for the warm welcome!
It is nice that we have something to be proud of!
Additional information: the BACC is automotive companies ,geographically linked to each other, cooperating with each other. Cluster consists of 15 automotive companies, 2 educational centers and Kėdainiai Free Economic Zone. Founded in 2013.